More Than 130 Dogs Removed From Pricey Home in Southern California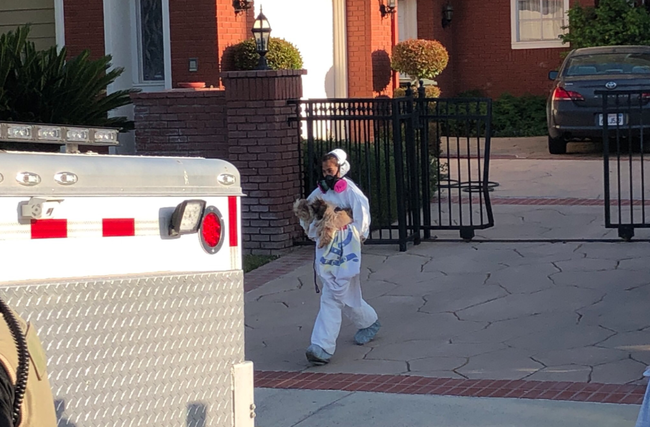 Officials in Southern California spent several hours Thursday afternoon removing a total of 136 dogs from some allegedly filthy conditions inside a home in a gated community in Southern California. The dogs were mostly Shih Tzu and Maltese dogs in various stages of poor health and are currently being treated by veterinarians.
Animal Care officials dressed in haz-mat suits and wearing masks removed the dogs after the Orange Police Department received a anonymous tip about animal cruelty at the residence, Sgt. Phil McMullen told KFI News. Officers discovered the foul scene inside after the residents inside allowed officers to enter the home and conduct a welfare check on the animals.
"Based on what was found inside the home, the house was declared uninhabitable," according to Sgt. Phil McMullen of the Orange Police Department. The dogs ranged in age from puppies to older dogs with various stages of medical issues. Very little furniture was found inside the home and there was dog excrement and urine all over inside and on the floor.
The investigation is still ongoing and additional charges could be filed against the home's occupants, police said.
One neighbor said they could smell the dogs from outside the home.
"Flies everywhere, odor of feces coming from the house," one neighbor told KFI News.
Another woman who purchased a small dog from the woman living at the home said her puppy soon became ill and died at 4-years-old.
"I broke down crying because I realized it wasn't me, it was her, it was the breeder and we went through all of that and it was heart-wrenching," one woman said.
The dogs were of varying ages and were in different stages of poor health, according to Orange Police Seargeant Phil McMullen.
"There is a strong, foul odor coming from outside of the residence. And I know that our City of Orange code enforcement red-tagged the house because it's uninhabitable at this time," McMullen told KFI News.
The home's occupants were both issued citations for misdemeanor animal cruelty, OC officials said. Their names were not released.